If you're anything like me, you choose your resorts just as much by the quality of their dining as you do by the beauty of their beaches. There are some fantastic dining experiences to be had all over the Caribbean – you just need a trusted travel advisor to find them! Here is my short list of Top Caribbean Resorts for Foodies.
Baoase Luxury Resort, Curacao
Located on a private lagoon on the south side of Curacao, Baoase is a Bali-inspired, ultra-exclusive resort offering the intimacy of a private villa or suite with the amenities of a five star resort. Twelve of the 23 units at Baoase have their own private plunge pools and all accommodations are surrounded by lush gardens in a serene and tranquil setting. A truly unique and imaginative playground for jetsetters, Baoase just wows! A feast for the senses, Baoase delights not only with its lush, bohemian vibe, but also with its incredible food!
Baoase's Culinary Beach Restaurant Restaurant and Bar overlooks the resort's stunning beach and provides culinary experiences that indulge one's palate beyond expectation . Guests will be amazed by dishes as beautiful in taste as they are in texture and design. Imagine dining toes in the sand, sampling wines from all over the world and relishing delectable French/Asian fusion dishes. This is the Baoase dining experience.
Baoase has a variety of unique and romantic dining experiences for lovebirds and honeymooners. The staff are happy to arrange a private multi-course dinner, gazebo setup or gourmet picnic. The resort just oozes romance and relaxation and the level of service here is above and beyond.
Want to learn more about Baoase Luxury Resort? Contact me here. To learn about one of my other favorite resorts in Curacao head to the blog here.
Aurora Anguilla
Set on idyllic Rendezvous Bay on the island of Anguilla, Aurora Anguilla Resort & Golf Club is a Caribbean paradise. Ideal for discerning travelers in search of an authentic island getaway, Aurora Anguilla is equal parts elegant and relaxed. The resort is home to a collection of world-class amenities including a fleet of private planes, a luxurious Spa, an 18-hole Championship Golf Course, and multiple creative dining options.
Get ready for an epic culinary adventure at Aurora Anguilla. Its six restaurants and bars range from casual to fine dining and will keep your tastebuds tantalized throughout your stay. Each features seasonal, chef-curated menus inspired by Aurora's fresh produce and harvested from the resort's own hydroponic garden.
At the center of Aurora Anguilla is Chef's Table, featuring family-style feasts anchored by an open kitchen and wood-burning oven. Eventide is the perfect place for tropical cocktails and small plates with your feet in the sand. Breezes serves up seafood favorites on the reef coastline of Merrywing Bay. Tokyo Bay is THE place for delectable Japanese cuisine on the island of Anguilla.
To learn more about Anguilla Aurora Resort, EMAIL me.
Hammock Cove, Antigua
Hammock Cove is Antigua's newest, adults-only, all-inclusive resort. This beautiful, upscale villa resort features stunning turquoise water views, impeccable service, and fabulous gourmet dining. All of the villas boast large balconies overlooking the sea with private infinity-edge plunge pools, a fully stocked bar, and butler service.
Hammock Cove's rates are inclusive of luxury villa accommodations, various wellness, land and water activities and all dining. This includes everything from breakfast, lunch, dinner, and small bites to chef's table and multi-course tastings, in-villa dining, afternoon tea, evening aperitivo, and premium wines and spirits.
Head to chic Irina's bistro for breakfast, lunch and dinner overlooking the Great House pool. Irina's also serves light savory and sweet snacks, afternoon tea, and customized coffees. The romantic Lighthouse restaurant takes guests on a gastronomic journey led by Michelin Star Executive Chef Marco Festini. Barefoot is the dress code for Nobody Knows Bar overlooking the famed Devil's Bridge. It's a perfect spot for a rum cocktail while watching the spray of the shooting waves. Or relax in the Chairman's Lounge over a glass of champagne and a game of chess while listening to a curated library of vinyl.
Visit the blog or contact me here for more information on Hammock Cove as well as the stunning island of Antigua.
Rockhouse, Negril, Jamaica
Rockhouse is an award-winning boutique hotel tucked cliff-side into the lush, tropical gardens overlooking Negril, Jamaica's west end. Each of the property's 40 rooms is built from timber, stone and thatch and designed to blend seamlessly into the rock and jungle-like landscape. Once a favorite hangout for celebrities including Bob Marley, The Rolling Stones, and Bob Dylan, Rockhouse remains a cherished haven for stylish travelers from all over the world. Guests of Rockhouse also have privileges at its sister property, Skylark Negril Beach Resort, located on the iconic Seven Mile Beach. Both properties undertake environmental best practices while putting back into the community through the Rockhouse Foundation.
The romantic Rockhouse Restaurant is Negril's premiere fine dining destination. Mesmerizing views over the volcanic cliffs out to the Caribbean Sea create a serene atmosphere for diners as they nosh on modern Jamaican fare.
Rockhouse's Pushcart is inspired by Jamaican street food. The restaurant features an open-air kitchen serving up specialties like hot peppered shrimp and conch curry. The vibe is all sea breezes, tiki torches, rum drinks, and barefoot dancing.
Vacation bliss awaits at the Pool Bar & Grill, located on the hotel's cut stone infinity pool deck. Diners can relax in their comfy lounge chairs while enjoying a tasty lunch of jerk chicken, grilled snapper, or the Rockhouse burger. The pool deck is also a primo spot for sipping the hotel's signature cocktails while witnessing a magical Jamaican sunset.
Ready to pack your bags? Contact me for details here.
Jade Mountain, St. Lucia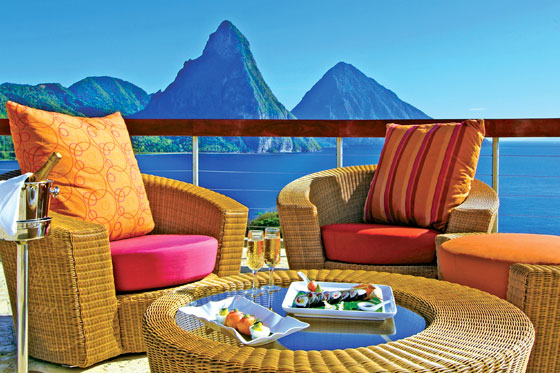 A mesmerizing resort experience, Jade Mountain is designed in harmony with nature. It is St. Lucia's only resort property with the iconic view of both Piton mountains floating above the Caribbean sea. A masterpiece of organic architecture, Jade Mountain Features individual bridges leading to infinity pool sanctuaries and rugged, stone-faced columns rising majestically above the sea. A popular destination wedding and honeymoon spot, Jade Mountain offers guests sweeping views, stunning villa accommodations, and 5-star service.
Wrapped around an infinity pool bursting with dazzling colors, the Jade Mountain Club restaurant caters to guests of the resort and features an exotic fusion of tropical flavors from the island. The aptly named "Jade Cuisine" showcases the culinary talents of Chef Allen Susser, the resorts' James Beard award-winning chef.
Jade Mountain's Celestial Terrace offers an unforgettable sunset panorama and stargazing opportunities in one of the most breathtaking locations imaginable. The staff can arrange private dining experiences here for an uber romantic meal under the stars.
Jade Mountain's 600-acre property includes a colonial plantation of cocoa trees (yes, the resort makes its own chocolate) and an organic farm that grows a multitude of organic spices, nuts, fruits, and vegetables for true farm-to-table dining.
Chef Susser and his culinary team also host monthly interactive culinary weekend events showcasing St. Lucia's heritage. Cooking in Paradise, Caribbean Fisherman's Festival, Spices of the Caribbean, and Discover Chocolate are a sampling of the cooking classes offered.
Jade Mountain guests may also dine at sister property Anse Chastanet, located directly below Jade Mountain and easily accessible by foot or resort shuttle. The Treehouse Restaurant features modern Caribbean cuisine, the Piti Piton Lounge serves an entirely vegan menu, and beachside Trou au Diable Restaurant offers exotic Creole and Saint Lucia-East Indian dishes. For the ultimate private getaway, book the Castaway Dinner on Anse Mamin Beach.
Interested in a bucket list getaway to Jade Mountain? EMAIL me.
Final Thoughts: I will continue to add to this list of top Caribbean resorts for foodies so check back often! Go to my Destinations Page to learn more about each island's unique characteristics and follow me on Instagram and Facebook for your daily dose of "island love".